July 23rd Monday
I said the guys had been brainstorming on a place to go and today we put our go pants on and did just that.
We take two cars as we have Bronco with us and her hair is best left in the truck for me to clean not someone elses car!
Our adventures for today and our first stop was the cute and busy town of Telluride, CO.
As usual Telluride was bustling with people.
No parking to be found...and it doesn't help when you are driving Big Bertha!
Pat lead us to the Bridal Veil Falls, and we got out and stretched our legs.
I read about the falls here:
Bridal Veil Falls
Our next town is the wonderful town of Ouray, CO.
One of my favorite places to come.
The air is so clean and fresh in this little quaint town.
Thinking we had done so good on our margaritas the last few nights, Chuck, Pat and I have one.
Heike has a Bud Light.
Oh man, we should have gone with Heike on this one.
Truly one of the worst margarita's I have had in a very long time.
OK, that snobbery comes out, but it is so true.
Bellies are full, and we need to make some miles, so we set the vehicles towards the Million Dollar Highway.
We knew that there would be some delays as they are repairing the road from the recent torrential rains they have been having.
The delay wasn't very long and we were on our way to the next town.
We pull off at the Red Mountain Scenic overlook and enjoy the splendor of these mountains.
Just a drive by at Silverton, and on to Durango.









The traffic is pretty fierce in Durango, and we were all glad to get out of it.
Back at the RV Park by about 5pm and oh so glad to get out of the vehicles.
It was a long day of being tourist but it was a lot of fun!
July 24th Tuesday.
Todays outing is going to be without Bronco.
Not thinking that the area would be dog friendly we leave her in the air conditioned RV.
Pat is our driver today and we make our way to the Mesa Verde National Park and drove the loop.
The road led us to the Chapin Mesa Archaeological Museum.
Being the tourist that we are, we parked and went inside.
It was a really nice museum showing so very many parts of the lives of the people that lived in this area so very many years ago.
Of course we had our moment of laughter brought to you by Chuck.
He tells Heike, Pat and I, "wait till you see the Indian Jewelry in the display in the next room."
Well, Heike and I were excited to see it, so we hurried over there to an empty case.
The Jewelry case was totally empty.
Once again Chuck got us!
Here is a link to
Chapin Mesa Museum
We walked down to get a better look at the cliff dw
ellings.
Cliff Palace is the largest cliff dwelling in North America

.
What a beautifully preserved area.
Pictures don't do it justice, but of course we had to take a few anyway.
Back in town, we drive to a trading post that I noticed as we came into town last week.
The place was quite interesting and Heike decides she needs some sand paintings and Chuck got him a beaded key ring.
Big spenders aren't we...LOL
When in Colorado you must make a trip to the local CBD shop.
We did just that!
The place was called The Medicine Man.
I know we are going to have these in Oklahoma soon....(well, maybe) but we had to check it out.
I for one was not excited about the smell that hits you in the face when you walk in, but hey, that's just me!
We came, we saw and we went...
That's my story and I'm stickin to it.
Our day is done and it's time to get back and check on Miss Bronco.
Tomorrow is another day and we will tourist again.
July 25th Wednesday.

I for one am pretty tired today.
This being a tourist is pretty hard on a gal.
We decided to go the Anasazi Heritage Center and check it out.
Another National Museum, we enter and walk through the displays.
It was a very interesting as well.
Our day was over and we sat back and chilled and enjoyed the nice cooler temps and low humidity.
July 26th Thursday.
This is our last day in Cortez, CO.
Tomorrow we make our way to Santa Fe, NM.
It was time for us to leave, as I think we all decided we have been tourist in this area long enough.
Spent most of the day just packing things away and getting ready to make our exit tomorrow.
We did go out for dinner one last time in Cortez.
The sign was all it took for us to be hooked.
It say they have the best Margarita's in town...so it didn't take a whole lot of arm twisting to get us over there.
Fiesta Mexicana Restaurant was a very nice place.
The margaritas were really good and the food was very good as well.
I for one wanted to steal their dining chairs they had at every seat.
The colorful Mexican painted suns, flowers, birds etc. were just my cup of tea.
Sitting outside eating good food with good people and drinking some fine margaritas....what a way to end our trip to Cortez, CO.
July 27th Friday.
We are Santa Fe bound this morning.
We pull out at 9 am.
Got to Santa Fe at 2:30.
Los Suenos de Santa Fe is the RV Park we will be staying at for a few days.
Love that the RV Park is on Cerrillos Rd.
That is the main road to anything in Santa Fe.
We got seperated from Pat & Heike sometime back due to the moving of some extremely large equipment on the highway, so we made our way to the park on our own.
I am so glad there was a Class C motorhome in front of us and seemed to be going to the same place we were.
It wasn't the easiest place to find, but we finally made it.
Heike was checked in by the time we pulled up and the lady in the Class C was next in line.
While waiting for her to check in, I picked up some of the local information books to check out what is going on.
My turn to check in, and we are informed that the wifi is down due to the storms earlier this week.
We are told that it will be up later today....HAHA!!!!
As I finish the lady in the Class C comes back in with a somewhat frantic look on her face.
She can't find her keys.
Since she is blocking the area for us to even think about parking, I suggest she calm down and I will help her look for them.
We go outside and I suggest she open the motorhome back up and check again.
Sure enough on the floor by her sweet dog were her missing keys.
Thank goodness!
In the meantime I get a text from Heike telling me that someone is in our space.
I proceed to go back into the office and tell the lady on duty about it.
Again I get a text from Heike and she says the guy says he is just using our site to "dump"!!!!!
Finally we proceed to our site.
It is a bit of a squeeze to turn into, but Chuck handles it like a pro.
As we get out of the truck a terrible smell hits us in the face.
Pat has come over and says he isn't sure if we are going to be able to handle the smell.
Upon further inspection it looks like the guy that was "dumping" was doing just that....all over our site.
It was so rank it made us feel quite nauseated.
I got out our "Awesome" spray and started spraying all the rocks around the site.
Chuck proceeds to go ahead and hook our sewer up and as soon as he opened the cap on the sewer the smell was intensified 100%.
After he sealed it back up the smell got better.
In time I think the spray and cleaning of the area helped, as the stinch went away.
We decided to leave the property and go do a little retail shopping at Jackalopes.
They were having a sale until the end of the month and their prices seemed really good.
We will be exploring a few other places tomorrow, so for now, I am just taking notes. :)
It was decided that we would eat at Olive Garden this evening.
We get there around 5:30 and there is a little bit of a wait.
Dinner and company was very nice!
Back at RV Park and the weather looks like we are going to get hammered with rain.
We get very little, but the wind was pretty gusty and it sure made it a cool evening.


July 28th Saturday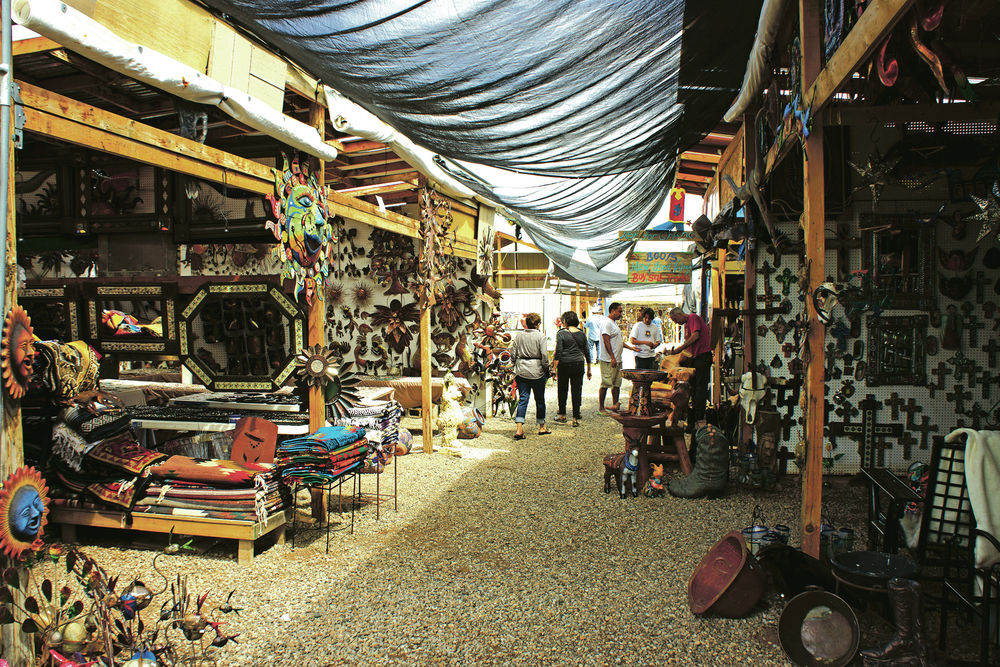 The Flea Market we normally go to on "Flea Market Road" has moved.
It is a little farther north and over by the Buffalo Thunder Casino.
It wasn't hard to find at all.
We did a little bit of shopping and figured we would attempt to go downtown and see what is going on there.
The narrow street towards the square was even more narrow due to all the people.
People weren't even paying attention to the vehicles on the street.
We were driving Big Bertha, and I was having a panic attach.
Yes, I was....it was crazy.
I was scared to death that someone was going to walk right into the truck.
At the top of my lungs, I suggested as nicely as I could, I ask Chuck to get us out of this place.
I called Heike and she said they were feeling a bit overwhelmed as well.
I was never so glad to get out of a place in my life.
It was decided we would just go back to the RV Park and eat some of our left overs from the night before.
Suited me fine!
After lunch, Heike and I went to Sams to stock up on items we might need...and hey, we can't miss an outing to Sams.
We also spent some time in World Market.
I just love that store.
Heike found some baskets she had been looking for.
She said she had been searching for quite some time, so I guess our little outing was quite successful today.
As we came back we stopped at Blakes LotaBurger and picked up some dinner.
There was a little man there that had to tell Heike and I a joke.
He was so funny....asked if we knew what the plow said to the tractor.....of course we had no idea....and he tells us "come a little closer John Deer"......we got a good laugh out of the joke.
Seemed to take forever to get our burgers, but finally made it back for dinner.
You just can't be in New Mexico and not have a Blake's LotaBurger.....or so I think.
July 29th Sunday.

I told Heike & Pat that I would put a pork roast in the crock pot so we would have some home cooked food for dinner.
Got it all set up and decided to put it on high for a bit to get it started cooking.

We decided to run out and get some lunch.
Taco's would be on the menu for today.
The little place called Baja Taco's was where we found ourselves.
It is a drive through hole in the wall type of place.
Great ratings on Yelp, so why not!
Pat & Chuck were doing their best impressions of Cheech and Chong, and cracking us up.
I even recorded it for them to look at later.
I came into the trailer and turned the temperature down on the crock pot.
After lunch Heiki and I decided to walk to a (what we thought was a little shop) at the top of the hill by the RV Park.
This place was not little at all.
I think we were both in Talavera heaven.
They had so many dishes and bowls it was hard to decide what we needed to take home with us.
Besides it was on sale, so who could resist.
Bronco got a couple of new bowls for her water and dog food.....lucky dog :)
Back from our shopping, I go and check on the roast.
No idea I had failed to turn the electric strip on for the electricity.
Yep, well, guess dinner is going to be a little later than we planned.


Heike fixed green beans.
Dinner was good finally!
What a good Keto dinner.
Too bad we went to Baskin Robins for desert. ;)